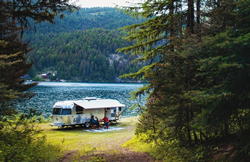 SCOTTSDALE, Ariz. (PRWEB)
June 24, 2021
Adjusting to life in a travel trailer is not as simple as some might assume. It takes more than just buying a truck and an Airstream travel trailer to begin the Airstream lifestyle. Since this adjustment involves learning a few new skills, buying a few accessories and other tools, Airstream of Scottsdale has created a video to help introduce first-time Airstream buyers to the kind of products they will need to learn to use.
The first video can be found on the Airstream of Scottsdale website by navigating to the "About Us" tab and selecting the "First Time Trailer Owners" tab. There is a brief written introduction followed by the video. This video lasts 12 minutes and 20 seconds.
Throughout the video, the host explains why first-time Airstream buyers need proper hitch equipment, hoses, braking equipment, storage gear and security products. The video also briefly describes how to flush and treat a black water tank, how to use an Airstream travel trailer's built-in brakes and why these skills are important.
Other videos in a similar series appear at the end of the video, allowing new owners or prospective owners the opportunity to learn about Airstream camping, RV parks, specific models and more.
Many of the products mentioned in the video can be purchased at Airstream of Scottsdale for the ease and convenience of first-time travel trailer owners. Customers still seeking to learn more about owning an Airstream travel trailer are invited to contact a representative by visiting the Airstream of Scottsdale dealership, calling (480) 467-3737 or by messaging on the dealership's website.

Share article on social media or email: