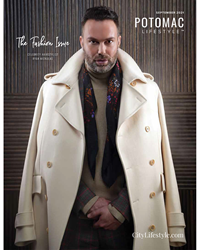 New York, NY (PRWEB)
September 10, 2021
Award-winning hairstylist, father, and public figure Ryan Nickulas covers the September issue of Potomac Lifestyle magazine.
The former reality star of LOGO's The A-List: New York discusses the new phase of his life, moving to a new city, remote learning with twins through quarantine, surviving Covid, and of course great style!
"We can't control things like a pandemic or a partner but we can control our own attitude and mindset," Nickulas said. "I knew that I would not be able to move forward without being kind to myself." This was something he made a deliberate decision to work on.
The stylist also discusses celebrating a 15-year business relationship with hair extension company Platinum Seamless. Ryan has generated more than $1 million in revenue from the product, and now focuses on license distribution and training an education team to ensure that everyone in D.C., Maryland, and Virginia can achieve great hair.
Now, as Nickulas is settling into the co-parenting groove and building up strength after Covid, he wants to give back. Nickulas is passionate about boosting the careers of up-and-coming artists. "I can't be a man of privilege without responsibility," he said. Nickulas purposely sought out independent local designers from the communities he's always championed, namely the LGBT community and Black and Latino-owned businesses. "I'm finally in a position where I get to help talented underdog stylists get their shine, and I'm so grateful for that."
Pick up a copy of Potomac Lifestyle now.
Article by Erica Moody @ericalynnmoody

Photography by Tony Powell @tonypowell1

Wardrobe @thestylemonsters
Follow Ryan Nickulas on IG @ryannickulas
Share article on social media or email: