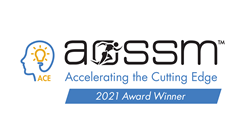 HARTFORD, Conn. (PRWEB)
July 15, 2021
Biorez Inc., a New Haven start-up advancing tendon and ligament healing, announced today that its proprietary, and recently FDA-cleared BioBrace Implant, received the AOSSM ACE Award for 'Accelerating the Cutting Edge.' The award was given at the annual meeting of the American Orthopaedic Society for Sports Medicine (AOSSM), held jointly with the Arthroscopy Association of North America (AANA) last week in Nashville TN.
The AOSSM-AANA joint meeting is one of the top gatherings of surgeons specializing in Orthopedics Sports Medicine Surgery with approximately 1,300 surgeons attending and 100 companies exhibiting. Given annually, the ACE Award recognizes cutting-edge innovation from exhibitors at the AOSSM Annual Meeting. It is awarded after a rigorous submission and review process that starts months before the meeting with the final judging of finalists at the meeting. Judges used a scoring criteria and system, factoring in creativity and innovation, long term applicability in practice, potential impact on clinical practice, improvement of standard of care, and benefits vs. harms and/or effectiveness.
"The judges saw a lot of new and innovative products, and the BioBrace represented an intriguing and desirable combination of strength and biology for an implant that can reinforce surgical repairs," said Craig Bennett, MD, one of the judges on the ACE award review panel, and Co-Founder and Medical Director at LifeBridge Health Sports Medicine Institute in Maryland. "This novel technology has significant potential. I look forward to seeing if upcoming clinical trials and data with the BioBrace demonstrate that the product has clinical benefits."
"This award is a great honor, and a testament to all the hard work and innovative research by the entire Biorez team," said Kevin Rocco, Biorez Founder and CEO. "In addition to winning the award, this meeting was particularly special as it was the first in-person orthopedic sports medicine conference in two years, providing an opportunity to reconnect with friends, colleagues, and the wide range of surgeons who have expressed tremendous interest in our technology. We would also like to congratulate two of our close advisors, Dr. Robert Arciero and Dr. Robert Stanton, for their induction into the AOSSM Hall of Fame."
About Biorez Inc.:

Biorez is a New Haven, CT-based medical device start-up focused on advancing the healing of soft tissues using its proprietary BioBrace™ technology. The company has pioneered the BioBrace Implant, a breakthrough biocomposite scaffold featuring a highly porous collagen matrix that is reinforced with bioresorbable microfilaments. The BioBrace Implant is intended to reinforce soft tissue repairs in several clinical applications and is cleared by the U.S. Food and Drug Administration under K203267. More information is available at http://www.biorez.com.
Share article on social media or email: