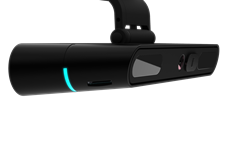 Designed with peace-of-mind and convenience at the forefront, the Co-pilot offers four critical apps in one easy-to-install hardware device

SEATTLE (PRWEB)
July 06, 2021
Today, Bluebox launched a Kickstarter campaign for Co-pilot – an all-in-one smart driving assistant. Designed with peace-of-mind and convenience at the forefront, the Co-pilot offers four critical apps in one easy-to-install hardware device to help drivers with everything from car accidents to tax deductions. Early bird pricing for the campaign starts at the early bird price of $159 for the Co-pilot Lite (MSRP: $199) and $259 for the Co-pilot AI (MSRP: $349).
Co-pilot currently comes with four software modules: an interior/exterior 1080p dashcam, automatic mileage logging, free engine diagnosis, and break-in detection with LTE livestream. The device is designed to replace all automotive gadgets in one handy device and a suite of software applications.
Co-pilot is designed as a smart driving assistant for all drivers, but is of particular interest for working drivers. In 2021, working drivers face concerns including assaults, inaccurate mileage tracking by operators like Uber resulting in tax deduction losses, high car maintenance costs, theft, and even constant stress about passengers taking off their masks. Co-pilot solves all of these issues with one hardware that enables an ever-growing suite of software applications.
The device can be thought of as a security guard, accountant, and mechanic in one. The interior/exterior 1080p dashcam features dual cameras, always on loop for driver safety. This smart dashcam automatically tracks mileage and calculates tax deductions (which can help drivers find up to $15k in savings). It can perform an instant vehicle diagnostic test to explain your 'Check Engine' light with its free engine diagnosis. Co-pilot also includes break-in detection and LTE (type of 4G that delivers the fastest mobile internet experience) livestream.
Bluebox's Co-pilot is the first-of-its-kind to integrate comma.ai openpilot – an open source, semi-automated driving system to improve the driver's overall experience. As Co-pilot continues to evolve, there will be additional features for drivers like collision warning and driver distraction monitoring. Once purchased, the driver will receive continuous over-the-air updates for improvements & new features.
Bluebox integrates with vehicles manufactured after 1996 and gets continuous software updates for new features like mask detection and highway autonomy. It comes in two versions, Co-pilot Lite, which includes the Dashcam, Blue mechanic, Milesaver, software updates and some future modules. Co-pilot AI includes the dashcam, Blue mechanic, Milesaver, Securitycam, over-the-air updates in all future modules, and developer SDK to access its sensors (IMU, stereo vision, vehicle CAN bus) & AI processor
"I'm really excited about Co-pilot and its functionality. And I think people will feel comfortable and secure using Co-pilot to protect their cars," said Lyft driver and beta user Nathan C.
Bluebox is part of the second cohort of the 5G Open Innovation Lab, a Bellevue-based applied innovation ecosystem funded by firms like Intel, Microsoft, NASA, and T-mobile.

Bluebox is also backed by reputable angel investors & VC such as Adam Greenberg (CEO of iUNU), Jesse Proudman (CEO of Strix Levithan and IBM Blue Box), Tom Furness (Professor at University of Washington & founder of Virtual World Society), and Strong VC.
Bluebox Co-pilot is now available on Kickstarter. Backers can take advantage of the Super Early Bird special saving 25% OFF the retail price. For more information or to interview Bluebox personnel, please contact PR agent Rosemary Newton.
Media Contact

Rosemary Newton, Proper Propaganda

+1.604.358.3444

[email protected]
About Bluebox

Founder and CEO Minsoo Lee and his four person team have driven as working drivers and are aware of the daily struggles that come with the job. Keeping that in mind, Bluebox Co-pilot was designed to solve daily concerns and challenges with the goal to enhance peace-of-mind and convenience for drivers. The Bluebox team's extensive set of technical skills has enabled them to build Co-pilot from the ground up. More importantly, this passionate team has the real-world experience necessary to build the right applications. Bluebox continues to gain support from a diverse group of investors who believe in Co-pilot and future projects.
Share article on social media or email: