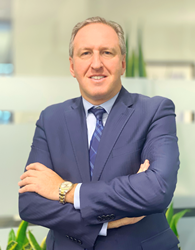 MIAMI (PRWEB)
August 16, 2021
CGI Merchant Group, LLC (CGI) — a global investment management firm with a focus on real estate and private equity — recently welcomed Robert Festinger as vice president of hospitality asset management. Festinger, an award-winning industry veteran, will play an integral role in driving the success of the firm's growing hospitality investment portfolio.
"Robert joins our team at a pivotal time for both the firm and the hospitality industry," said CGI Founder and CEO, Raoul Thomas. "As our hotel portfolio and the way consumers think about travel continue to evolve, so does our role as asset managers. Robert's strong track record, breadth of knowledge in operations and commitment to service brings a holistic approach to our asset management, and we are confident he will be instrumental in driving the firm's industry-changing ventures."
In this new role, Festinger will leverage his three decades of industry experience across Chicago, New York, and South Florida markets, to oversee the day-to-day operations and play an active role in the firm's $650 million Hospitality Opportunity Fund (H-fund), which looks to acquire 20 hotels throughout North America and the Caribbean over the next three years.
Since joining the CGI team, Festinger has already played an essential role in the reopening of the H-Fund's seed asset, The Gabriel Miami, a Curio Collection by Hilton property in the heart of downtown Miami. The property is the first in a soon-to-be-announced hotel concept, which looks to set a new standard in the hospitality industry while simultaneously driving positive change in host communities.
"It is an honor to join CGI and support their mission of advancing the hospitality industry," said Festinger. "I look forward to creating value-enhancing opportunities throughout the properties that meet the firm's objectives while simultaneously enriching the guest experience."
Prior to CGI, Festinger most recently served as vice president of hotel operations for Menin Hospitality, managing all day-to-day operations for the hospitality management and development company's portfolio of hotels, including the Mondrian South Beach, Shelborne South Beach, Gale South Beach, Gale Boutique Hotel and Residences Fort Lauderdale, and Raffaello Chicago. Going beyond his role, Festinger also served as a mentor to property general managers and their management teams.
Festinger graduated from Hofstra University with a bachelor's degree in political science and economics, and then went on to hold prominent management positions with notable hospitality brands, such as Hilton Hotels and Resorts, Starwood Hotels and Resorts and The Newport Beachside Hotel and Resort.
###
About CGI Merchant Group, LLC

CGI Merchant Group (CGI) is a global investment management firm focusing on real estate and private equity. Through our people, unique strategies and investment platform, we work to create long-term value for our investors and shareholders and seek to improve the communities where we invest.
CONTACT: Jorge Mendez, [email protected]
Share article on social media or email: