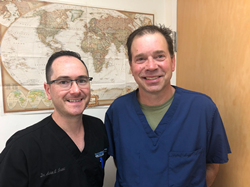 "By participating in a clinical trial, patients who meet certain criteria may receive study-related care at no cost to them or their insurance company, and will receive the latest, cutting-edge treatments available." – Dr. Adam L. Isaac, DPM, Director of Research

FREDERICK, Md. (PRWEB)
July 21, 2021
Dr. Adam L. Isaac, DPM of Foot and Ankle Specialists of the Mid-Atlantic (FASMA), announced today the opportunity for their diabetic patients with foot ulcers to be enrolled in clinical trials if they meet the study sponsor's criteria. Clinical trials will be conducted at the Frederick location on Solarex Ct.
FASMA specializes in diabetic foot care, including comprehensive foot exams, routine foot care, wound care, and neuropathy management. Drs. Adam L. Isaac and David Grace have a combined 38 years of experience treating diabetic patients.
Dr. Adam L. Isaac graduated from Temple University School of Podiatric Medicine in 2009 and completed his Foot and Ankle Surgery residency at Saint Barnabas Medical Center (Livingston, NJ). He then completed a fellowship in Wound Healing and Amputation Prevention at the Southern Arizona Limb Salvage Alliance (SALSA) at the University of Arizona, under the direction of David G. Armstrong, DPM, MD, Ph.D.
"Complications from diabetes involving the lower extremity, including foot ulcers, infections and amputations continue to rise at an alarming rate, and it is critical that we provide our patients with high quality, evidence-based care as quickly as possible. By participating in a clinical trial, patients who meet certain criteria may receive study-related care at no cost to them or their insurance company, and will receive the latest, cutting-edge treatments available," said Dr. Adam L. Isaac, DPM, Director of Research
"According to the studies, approximately 50% of diabetics that undergo a major lower extremity amputation, die within 5 years. This is a stunning quote and one that should not be taken lightly. Therefore as a podiatrist I attempt to properly educate all individuals with diabetes to attempt to prevent amputations and preserve quality of life," commented Dr. David Grace, DPM
In addition to providing unique opportunities for patients with ulcers to increase their chances of faster wound healing, participating in clinical trials allow study participants to help doctors and researchers to advance the medical options for wound treatment. FASMA continues to advance the treatment of diabetes in the space of podiatric care and build a center of excellence for patients of all demographics. FASMA also offers a wide variety of cutting edge treatments to patients for diabetic care that are not study related to get them back on their feet.
About Foot & Ankle Specialists of the Mid-Atlantic (FASMA)
All FASMA offices treat diabetic feet, wounds, heel/arch pain, tendonitis, and more…..we treat patients of all ages. To make an appointment with FASMA and learn more about clinical trials for patients with diabetic foot ulcers, call 301-698-9260.
Share article on social media or email: