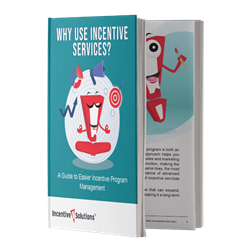 Incentive services can expand, enhance, and scale your incentive program, making it a long-term tool for continuous growth.

ATLANTA (PRWEB)
July 21, 2021
Atlanta incentive company Incentive Solutions has published a new guide, Why Use Incentive Services? The guide, aimed at B2B companies who want to use incentives as part of their channel management strategy, explains the services that make incentive management easier and more cost-effective. Why Use Incentive Services? is free to download as a PDF file.
The guide helps to educate readers beyond the basic mechanics and technology of incentive management. Some of the services covered include:


Goal-setting assistance

Key performance indicator (KPI) identification process and program performance tracking

Benchmark data that helps determine a program's success level

Onboarding and implementation services that help structure an incentive program

Reward fulfillment services that increase the speed of reward delivery and lend established reward vendor relationships

Support services specialized in ensuring a positive incentive program experience for participants

Data security, configuration, and integration benefits associated with in-house programming and development

ROI and gap analysis services that help determine how to measure and improve your program's results
As the guide states, "The most successful incentive programs marry the science of advanced incentive technology with the human touch of incentive services and expertise…Incentive services can expand, enhance, and scale your incentive program, making it a long-term tool for continuous growth."
The Why Use Incentive Services? guide builds on Incentive Solutions' library of free resources for incentive program management and planning. All of these resources are designed to help companies improve channel sales and marketing strategies using incentives.
About Incentive Solutions

Founded in Atlanta, GA in 1994, Incentive Solutions is on a mission: "To inspire growth – for our clients and our employees." A leader in the incentive technology development space, Incentive Solutions uses millions of exciting online rewards, incentive travel promotions, gift card incentives, and innovative platforms to help manufacturers and distributors increase sales, capture mindshare, build customer loyalty, and improve data collection throughout their channel. For more information, visit http://www.incentivesolutions.com.
Incentive Solutions

2299 Perimeter Park Drive, Suite 150

Atlanta GA 30341

1-770-457-4597

1-866-567-7432

https://www.incentivesolutions.com
Share article on social media or email: