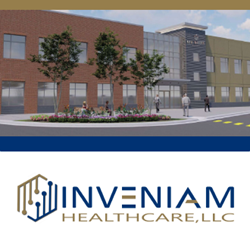 MCKINNEY, Texas (PRWEB)
August 20, 2021
Inveniam Healthcare, LLC a North Texas based venture capital firm focused on impact investments in specific subsectors of the healthcare industry, announces its strategic partnership and funding agreement with New Waters Recovery.
New Waters Recovery is a newly formed healthcare service provider that specializes in substance use treatment and medically assisted detox. New Waters Recovery is currently identifying multiple locations to be strategically placed across the country in underserved markets, the first of which is to be opened in Raleigh North Carolina. New Waters Recovery, North Carolina will be a boutique facility with 31 beds in a comfortable and serene setting. The facility will focus primarily on the medically assisted detox stage of recovery and will provide a high level of care customized to each patient. New Waters Recovery North Carolina has assembled a team of highly qualified healthcare professionals with more than 50 years combined experience in substance use treatment. Inveniam Healthcare and its investor partners will be providing the capital needed to secure the location, buildout the facility, and to cover operations.
According to Ryan Wright, a managing partner of Inveniam Healthcare, "New Waters Recovery North Carolina's management has assembled a world class team of health care professionals that we have the utmost confidence in. Besides the overwhelming need for services in this space, the team we have here is really what drew us to participate in this project. Everyone knows in healthcare the staff and management are the most critical components of success and we couldn't be more pleased."
At the present time, the parties have selected the facilities location and have entered into a lease at 3810 Bland Road, a newly constructed 21,138 square foot building in Raleigh North Carolina. According to the companies, the current plan is to begin construction in the next 4-6 weeks with a target to open the facility in December 2021 or January 2022.
"We are more than excited about New Waters Recovery moving forward and we are eager to see this needed resource come to fruition and make a positive impact in the community" said Trent Davis, a managing partner of Inveniam Healthcare. "Now that we have the location secured, we will turn our focus to getting New Waters Recovery open as soon as possible so we can begin providing patient services for those in need of a positive change."    
Substance use and drug overdose deaths have steadily risen to new heights throughout the pandemic and unfortunately do not seem to be slowing down. According to The New York Times, the latest numbers surpass even the yearly death tolls during the height of the opioid epidemic and mark a reversal of progress against addiction in recent years. The most recent data shows that more than 87,000 Americans died from drug overdoses from October 2019 to September 2020. Illegally manufactured fentanyl and other man-made opioids were the most prevalent substances found in the cases of overdose death. Alcohol related deaths have also reached the highest numbers since 2001. During the pandemic many facilities and treatment programs across the country closed leaving many people without treatment options. Now that programs are beginning to reopen, there is such an enormous demand for treatment that it is overwhelming the capacity of the available providers. Many people in need of treatment are being put on extended waitlists, or being turned away all together. Through their efforts, Inveniam Healthcare and New Waters Recovery are striving to combat this problem and help as many people as possible change their lives for the better.
About Inveniam Healthcare
Inveniam Healthcare is a venture capital firm based in North Texas that focuses on providing high quality alternative investments in healthcare that are focused on cash flow generation, tax benefits, and multiples upon exit. Qualified accredited investors that want to learn more about becoming a partner of Inveniam Healthcare, can contact the company at 866-627-4227 or at [email protected]
Contact Us
Share article on social media or email: