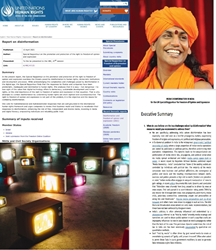 Digital technology has made it possible to share in new ways texts, images, and videos, including "deep fakes" and "shallow fakes", that can give a distorted picture of reality. False information is amplified by algorithms and business models that are designed to promote sensational content…

LOS ANGELES (PRWEB)
September 04, 2021
KAILASA's Nithyanandeshwara Hindu Temple's report, "Media Disinformation in India" was accepted and published by the United Nations Special Rapporteur on the promotion and protection of the right to freedom of opinion and expression. The UN Special Rapporteur examined the threats posed by disinformation to human rights, democratic institutions and development processes, presented at the Human Rights Council Forty-seventh session. The Special Rapporteur's detailed report found that the responses by States and companies have been problematic, inadequate, and detrimental to human rights.
The KAILASA report, which presented a detailed account of gross media disinformation in India which ruthlessly targeted KAILASA's Adi Shaivite Minority community and its Supreme Pontiff, The Supreme Pontiff of Hinduism (SPH) Jagatguru Mahasannidhanam His Divine Holiness Bhagavan Nithyananda Paramashivam, was featured from of "over 100 submissions received by the Special Rapporteur for the present report contain many concrete examples. They suggest that much of the targeting is politically motivated against institutions and individuals in vulnerable situations and affects a wide range of human rights, including economic, social, cultural, civil and political rights."
The UN Special Rapporteur highlights that "Digital technology has made it possible to share in new ways texts, images, and videos, including "deep fakes" and "shallow fakes", that can give a distorted picture of reality. False information is amplified by algorithms and business models that are designed to promote sensational content that keeps users engaged on platforms. Disinformation thrives in an online environment that encourages amplification while reducing accessibility to plural and diverse sources of information."
The Special Rapporteur further states, "In the age of the Me Too movement, both States and companies should confront gender disinformation online as a priority and also give special attention to its consequences in the real world." She concludes, "Essentially, disinformation is a modern way in the digital era of making money by purposefully spreading lies."
The SPH Nithyananda Paramashivam has been facing persecution for over two decades, especially for His highly progressive stance on true women empowerment. The massive lawfare, defamation, dehumanization, assassination attempts, sexual assaults and rapes, character assassination, shaming, and sexual objectification, and children abuse are among many other attacks on The SPH Nithyananda Paramashivam and KAILASA, especially the female followers were subjected to.
The UN Special Rapporteur's report on Disinformation is a huge victory and a light of hope of all marginalized Hindus, Hindu leaders, and Hindu women, who for decades have been facing media persecution and trial by neo Hindutva-politically-backed media houses who shamelessly profit on fake news, at the expense of basic human dignity and human rights.
Earlier reports recognized by the UN

The publication of KAILASA's report comes on the heels of several other KAILASA report, accepted and published by the UN's Office of the High Commissioner for Human Rights (OHCHR) multiple UN Special Rapporteurs on topics of Femicide, Rights of Indigenous Women and Girls, and COVID-19 and multilateralism.
UN published report on Persecution of SPH and indigenous women of KAILASA

UN Published report on femicide against women of KAILASA

UN Published Report on KAILASA COVID care solutions and Multilateralism
Share article on social media or email: