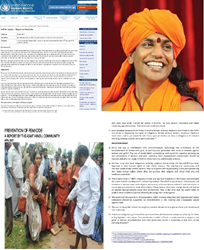 Over the years I watched with despair as my fellow monastic community was repeatedly attacked in India. Today, I am overwhelmed with joy to hear that the UN has finally recognized the non-stop, intense persecution of ASMT and The Supreme Pontiff of Hinduism Bhagavan Nithyananda Paramashivam."

LOS ANGELES (PRWEB)
July 21, 2021
The issue of femicide, or gender-related killings of women, has been a thematic priority for the UN Special Rapporteur on violence against women, its causes and consequences. The Special Rapporteur has taken stock and progress made around the globe to prevent and combat femicide. Her findings will be presented in a report to the 76th session of the UN General Assembly, September 14, 2021.
As part of this effort, the United Nations has again recognized the persecution of The SPH Nithyananda Paramashivam and Adi Shaivite women, representing another victory for Hindu Feminism® and one more milestone in the history of Hindus and humanity as the centuries of persecution, injustice, and violation of fundamental human rights have come to the forefront.
The SPH Nithyananda Paramashivam has been facing persecution for over two decades, especially for His highly progressive stance on true women empowerment. The massive lawfare, assassination attempts, sexual assaults and rapes, character assassination, shaming and sexual objectification, children abuse among many other attacks on The SPH Nithyananda and KAILASA, especially the female followers, has been taken a serious note of and the attached report published on the UN website by the Special Rapporteur.
The publication of KAILASA's report comes on the heels of another KAILASA report, accepted and published by the UN's OHCHR's Committee On the Elimination of Discrimination against Women
As a woman Hindu monk, this is a momentous occasion", said Ma Nithya Prematmananda Swami, an ordained monk of the Sovereign Order of KAILASA. "I remember the day when intense persecution of the SPH and our community started almost 12 years ago – my monastic sisters and the community were attacked in India, The SPH was facing assassination attempts and was almost burned alive. Over the years I watched with despair as my fellow monastic community was repeatedly attacked in India. Today, I am overwhelmed with joy to hear that the UN has finally recognized the non-stop, intense persecution of ASMT and The Supreme Pontiff of Hinduism Bhagavan Nithyananda Paramashivam", she said. "Finally the world can see the truth for themselves. This recognition means a lot to the Kailasa community around the world. We can now continue our work on sharing the science of enlightenment, with the comfort that the international community has taken notice of what we knew to be true all along."
Share article on social media or email: