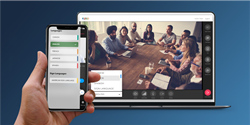 The power of inclusivity lies in communication, KUDO was developed to break language barriers and ensure everyone can participate in the conversations that matter. Always an activist, Bill is, again, pushing into the most significant frontiers and in this case the future of work.

NEW YORK (PRWEB)
June 23, 2021
Pershing Square Capital Management, L.P. Founder and CEO Bill Ackman today utilized the cloud-based multilingual conference platform KUDO to address his global stakeholders in a special presentation about the Pershing Square Tontine Holdings, Ltd. (NYSE:PSTH) acquisition of 10% of the Ordinary Shares of Universal Music Group ("UMG") for approximately $4 billion from Vivendi S.E.
With this presentation, PSTH joins the many Fortune 500 companies, governments and diplomatic agencies around the world using KUDO to level the communications playing field as language inclusivity becomes possible on the cloud and in real time. Mr. Ackman's personal investment in KUDO's Series A in March 2021, and use of KUDO for this announcement, fuels a new economy enabled by KUDO Marketplace, the first on-demand booking platform for interpreters.
To communicate with this particularly cross-cultural community of stakeholders for his presentation, Mr. Ackman chose KUDO as the vehicle to bring inclusivity to the announcement, ensuring that investors around the world could understand the intricacies of the transactions. Thanks to KUDO's network of live, real-time interpreters, the presentation was available in French, Japanese, Mandarin, Cantonese, Korean, German, Italian, Spanish, Portuguese, Arabic and Russian.
"The power of inclusivity lies in communication," said CEO and Cofounder of KUDO, Fardad Zabetian. "KUDO was developed to break language barriers and ensure everyone can participate in the conversations that matter. Always an activist, Bill is, again, pushing into the most significant frontiers and in this case the future of work."
About KUDO: KUDO is a cloud-based collaboration platform that enables web meetings and live conferences with real-time multilingual interpretation. KUDO supports more effective and inclusive meetings by enabling people, governments, and businesses to overcome communication barriers and speak their own language. Accessible from anywhere, on any device, KUDO redefines possibilities in global communication. KUDO Inc. is a New-York based technology startup founded and managed by language and conferencing industry insiders looking to bring people together. More info at http://www.kudoway.com
Media Contacts:
KUDO:

Alyson Dutch / Carol Levey

Brown + Dutch PR, Inc.

310.456.7151

[email protected], [email protected]
Share article on social media or email: