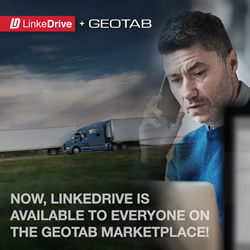 "Fleet safety and vehicle optimization is of the utmost importance to Geotab. With access to LinkeDrive's solution through the Geotab Marketplace, our customers can benefit from personalized coaching, insights into operational performance and overall fleet improvements." Louis De Jong, EVP, Geotab

BOSTON (PRWEB)
September 01, 2021
LinkeDrive, a pioneer in fully-automated fleet performance management, today announced that its fleet performance management solution is now available through the Geotab Marketplace, a go-to source for organizations seeking to better manage their fleets. With this partnership, Geotab customers will have access to LinkeDrive's entire personalized reporting and positive coaching solution, helping them drive more efficiently and safely — all while helping to improve retention and productivity.
Using Nobel-Prize-winning behavioral science and economics research, LinkeDrive engages drivers in the cab in real-time with context-rich daily, weekly, and monthly content and personalized coaching — all tuned to organizational goals and objectives. With the LinkeDriveR™ App and MyLinkeDrive portal seamlessly integrated into Geotab, every driver and manager can access the full LinkeDrive solution in one click whenever they need it.
Plus, operational teams and fleets can take advantage of unique features like LinkeDrive's daily MyDrive reports that highlight accomplishments, MyCoach® that delivers positive, personalized coaching, and monthly MyScore® reports that show drivers how their performance ranks against their peers.
"LinkeDrive deeply understands how data impacts drivers and fleets allowing us to unlock your data's full potential," said Jeff Baer, CEO, LinkeDrive. "We do the hard work of cleaning, normalizing and tuning the dataset to help drivers optimize performance. And the impact can be seen across the board — 25% increase in driver safety, 5% increase in fuel efficiency, and 10% increase in driver retention."
"Fleet safety and vehicle optimization is of the utmost importance to Geotab," said Louis De Jong, Executive Vice President, Geotab. "With access to LinkeDrive's solution through the Geotab Marketplace, Geotab customers can benefit from personalized coaching, insights into operational performance and overall fleet improvements."
To learn more about LinkeDrive, you can visit http://www.linkedrive.com and follow us @LinkeDrive and on LinkedIn.
About LinkeDrive, Inc.

LinkeDrive, Inc was established to help fleets large and small reach greater profitability in their operations, starting with their drivers. LinkeDrive's revolutionary, driver-centric approach to Driver and Fleet Management makes engaging, coaching and motivating drivers easier and more effective than ever before. By combining cutting-edge cloud-based technology with Nobel-Prize winning behavioral science and business intelligence, LinkeDrive's tools help fleets haul smarter, empower drivers to live and work at their full potential, and enable trucking companies to safely, sustainably and profitably keep the world moving forward.
About Geotab Inc.

Geotab is advancing security, connecting commercial vehicles to the internet and providing web-based analytics to help customers better manage their fleets. Geotab's open platform and Marketplace, offering hundreds of third-party solution options, allows both small and large businesses to automate operations by integrating vehicle data with their other data assets. As an IoT hub, the in-vehicle device provides additional functionality through IOX Add-Ons. Processing billions of data points a day, Geotab leverages data analytics and machine learning to help customers improve productivity, optimize fleets through the reduction of fuel consumption, enhance driver safety, and achieve strong compliance to regulatory changes. Geotab's products are represented and sold worldwide through Authorized Geotab Resellers. To learn more, please visit http://www.geotab.com and follow us @GEOTAB and on LinkedIn.
Share article on social media or email: