A new color for Large Product group models delivered by Mazda's unique TAKUMINURI painting technology
HIROSHIMA, Japan, June 10, 2022 – (JCN Newswire) – Mazda Motor Corporation today introduced Rhodium White Premium, a special paint color born from our unique Takuminuri(1) painting technology. This new color will be available this summer, predominantly for our Large Product group models, starting with the Mazda CX-60(2).
Rhodium White Premium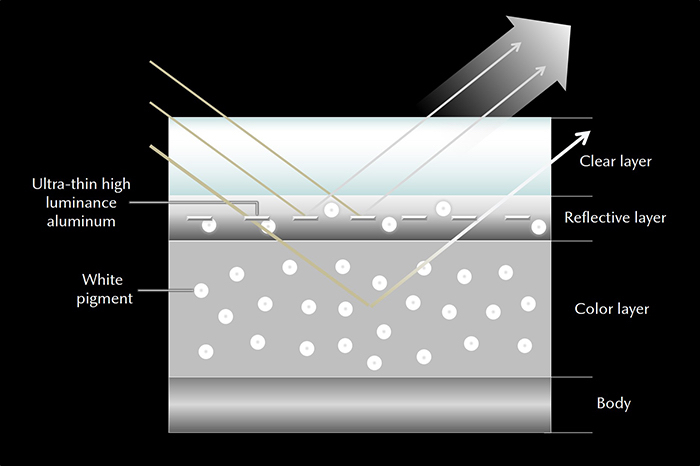 Rhodium White Premium Paint Layer Structure
Mazda believes color is a crucial part of what gives shape to a vehicle, and thus we are focusing efforts on developing colors that accentuate a dynamic and delicate expression via the Kodo – Soul of Motion design theme. Rhodium White Premium is a pure white inspired by Japanese aesthetics finding beauty in simplicity and the absence of superfluous elements. Furthermore, the paint's fine grain accentuates the shadows on the surface of the vehicle complimenting the metallic texture of Rhodium White Premium.
Developing Rhodium White Premium, we were able to take Takuminuri to new heights, successfully mass producing an expressive color using only three layers: a clear layer, a reflective layer and a color layer. The color layer provides a newly developed white pigment that delivers a silky smooth, fine-grain white. As standard practice with white colored paints, the undercoat tends to show through, and the clear coat is generally thicker than for other colors. However, Rhodium White Premium uses a newly developed pigment thanks to which we were able to reduce the thickness of the color layer by up to 30%(3). This also contributes to more efficient use of resources and a reduction of CO2 emissions during the production process.
For the reflective layer, we use a method in which paint containing ultra-thin, high luminance aluminum flakes is applied meticulously to achieve a uniform thickness and which then dramatically shrinks in volume during the drying process. Resulting in an extremely…