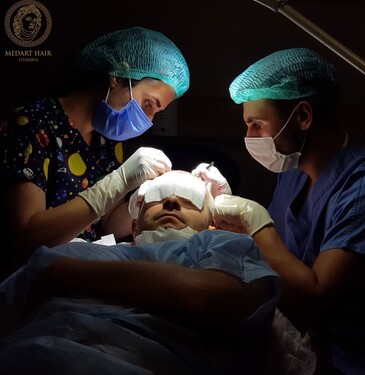 Istanbul, Turkey, 04/24/2021 / SubmitMyPR /
Hair transplantation is a powerful restoration technique sought after by thousands of patients globally. With more and more people seeking hair transplants, the market size has experienced tremendous growth in recent years. As a result, hair transplant turkey clinics have since come up to cater to the rising demand.
For example, the MedArt Hair Istanbul clinic comprises professional surgeons specializing in hair transplantation, the Sapphire FUE technique and DHI with high technology. The team has since performed over 4,000 successful hair transplants and offers patient-oriented services to match client needs and expectations.
It's not surprising that the market size is expected to hit a whopping $25 Million by 2026. As per a study by 190+ pages, the global hair transplant market size was about $ 5 Million in 2019 and is expected to experience a 22.1% growth by 2026.
Hair transplants are surgical procedures that involve removing healthy hair follicles from the donor part and are transplanted to the affected or recipient area. The donor site doesn't necessarily have to be the head, but other regions like the legs and face are also useful. The standard hair transplantation methods are;
Follicular Unit Extraction (FUE)– FUE is one of the recent advancements in hair health and has gained a lot of fame globally. It involves transplanting hair stands from the back of the head and the sides. It mimics natural hair growth and proffers a more natural look than the other procedures. What's more? FUE doesn't involve significant or deep cuts, thus fewer scars and a shorter recovery time.
Follicular Unit Strip Surgery (FUSS)- During the procedure, the surgeon uses a strip of hair from the donor area and transplants it to the balding area. The surgery takes several days to heal completely and is ideal for patients experiencing extreme balding since it allows for multiple grafts to be transplanted in one session.
Scalp reduction: Scalp reduction is a rare procedure that involves the removal of the balding area. The hair-bearing region and scalp are then stretched to replace it. The process is expensive and is associated with the risk of skin tightening.
What can we attribute to this significant growth?
The hair transplant market is classified into different sections. These include Single Follicular Unit Transplantation (FUT), Follicular Unit Extraction (FUE), and more. In 2019 FUT acquired a significant market share and covered half of the hair transplant market globally. The growth is attributed to the high numbers of individuals with hair baldness.
Although there are other types of surgeries like eyebrow transplants, had hair transplants occupied a large segment of the market in 2019. Besides, most people have shown a lot of interest in restoring head hair. There are multiple procedures to choose from, and you can learn about hair transplantation methods from hair transplant Istanbul surgeons.
What of the health facilities? The market is further categorized into hospitals, dermatological clinics, Trico Logy clinics and more. Dermatological clinics get a high percentage of patients and performed the highest number of hair restoration transplants in 2019. These clinics also cater to related skin disorders and account for over 40% of the market share.
The hair restoration market size is expected to grow in the coming years. Advances in technology and the development of modern and more precise medical equipment will contribute to this growth.

Contact Information
MedArt Hair

Mail: [email protected]
Phone: 0 545 717 79 43
Address: Bağlarbaşı, Nuhkuyusu Cd No : 94 34662 Üsküdar/İstanbul
Original Source of the original story >> MedArt Hair Istanbul Clinic – The Hair Transplant Market to Hit $ 25 Million by 2026!
Updated: April 20th, 2021
KISS PR PRODUCT REVIEWER Compensation Disclosure & DISCLAIMER
Pursuant to the Federal Trade Commission's guidance of the public in conducting its affairs in conformity with legal requirements comprised in 16 C.F.R. § 255 et seq. on the use of endorsements and testimonials in advertising, this Product Reviewer Compensation Disclosure is provided by KissPR.com LLC and its affiliated entities (hereinafter referred to collectively as "KISS PR"). This disclosure applies to content displayed on all mobile, desktop, and other online versions of KISS PR's websites and to those of KISS PR's distribution partners (hereinafter referred to collectively as "the Websites") and is provided for the purpose of disclosing the nature of the connection between KISS PR and product reviewers, advertisers, sponsors, endorsers, and other third-parties whose advertisements, sponsorships, endorsements, testimonials, opinions, or other product-related or service-related statements or reviews may appear on the Websites (hereinafter referred to as an "Product Reviewer").
This Product Reviewer Compensation Disclosure is intended to disclose to you that in consideration of payment of monetary and other compensation from a Product Reviewer, as described below, KISS PR sells various advertising, sponsorships, and marketing campaigns that are featured on one or more of the Websites.
There is a financial connection related to some of the products or services mentioned, reviewed, or recommended on the Websites between KISS PR and the Product Reviewer that owns, markets, or sells such product or service. If you decide to purchase a product or service featured on one or more of the Websites, KISS PR will not receive compensation related to that purchase from a Product Reviewer but may receive a one-time fee from the Product Reviewer for posting or distributing the product review on or via the Websites.
Further, KISS PR may post or otherwise promote on the Websites content ("Content"), including editorial content, which may feature third-party products and services (a "Reviewed Product"). This content may contain weblinks to third-party owned or operated web sites where you can purchase Reviewed Product ("Product Link"). If you click on a Product Link and then purchase a Reviewed Product on the linked web site, KISS PR will not receive compensation from the third-party offering the Reviewed Product (the "Vendor").
Weblinks on the Websites featuring a Reviewed Product may be added to posts or articles that are not identified on the Websites as comprising or containing paid or sponsored content. In such case, a disclosure statement about the Reviewed Product and the compensation that KISS PR might receive in connection with its purchase by you will be included in such posts or articles. Further, third-party advertisements may be posted on the Websites. Each time you click on such an advertisement, KISS PR may receive compensation from the third-party advertiser, even if you do not purchase any product or service from that third-party.
KISS PR will, subject to the disclaimer of liability set forth below, endeavor to ensure that product or service endorsements appearing in the Websites or in posts or articles distributed via the Websites reflect the honest opinions, findings, beliefs, or experiences of the Product Reviewer as they relate to such product or service. However, Kiss PR exercises no editorial control over any of the Content and is not responsible for the editorial merit of any Content. If you have any complaint, concern, or question relating to the Content, including alleged infringement of any intellectual property rights, you should address your complaint, concern, or question directly to the Product Reviewer or the Vendor.
NO REPRESENTATIONS OR WARRANTIES; NON-RELIANCE. EXCEPT FOR ANY EXPRESS REPRESENTATIONS AND WARRANTIES CONTAINED IN THIS DISCLOSURE STATEMENT, NEITHER KISS PR NOR ANY OTHER PERSON ON KISS PR'S BEHALF HAS MADE OR MAKES ANY EXPRESS OR IMPLIED REPRESENTATION OR WARRANTY, EITHER ORAL OR WRITTEN, WHETHER ARISING BY LAW, COURSE OF DEALING, COURSE OF PERFORMANCE, USAGE, TRADE, OR OTHERWISE, ALL OF WHICH ARE EXPRESSLY DISCLAIMED, AND YOU ACKNOWLEDGE THAT YOU HAVE NOT RELIED UPON ANY REPRESENTATION OR WARRANTY MADE BY KISS PR OR ANY OTHER PERSON ON KISS PR'S BEHALF, EXCEPT AS SPECIFICALLY PROVIDED IN THIS DISCLOSURE STATEMENT.
DISCLAIMER of Liability. IN NO EVENT SHALL KISS PR BE LIABLE OR RESPONSIBLE TO YOU OR ANY OTHER PERSON FOR ANY DIRECT, INDIRECT, INCIDENTAL, CONSEQUENTIAL, SPECIAL, OR EXEMPLARY DAMAGES OF ANY KIND, INCLUDING WITHOUT LIMITATION, LOST PROFITS OR LOST OPPORTUNITIES, EVEN IF ADVISED OF THE POSSIBILITY OF SUCH DAMAGES IN ADVANCE AND REGARDLESS OF THE CAUSE OF ACTION UPON WHICH ANY SUCH CLAIM IS BASED, INCLUDING, WITHOUT LIMITATION, ANY CLAIM ARISING OUT OF OR IN CONNECTION WITH ANY OF THE CONTENT, INCLUDING, WITHOUT LIMITATION, AUDIO, PHOTOGRAPHS, AND VIDEOS, OR OF THE ACCURACY, RELIABILITY, OR LEGALITY OF ANY STATEMENT MADE IN OR OMITTED FROM ANY advertisement, sponsorship, endorsement, testimonial, opinion, or other product-related or service-related statement or review appearing in the Websites or in ANY post or article distributed via the Websites.
© 2021 KissPR.com LLC

Media Contact Website: [KISS PR Brand Story PressWire] – Email: [email protected]