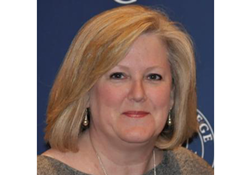 DOBBS FERRY, N.Y. (PRWEB)
July 30, 2021
Mercy College announced today that it has appointed Kathleen Golisz Interim Dean for the School of Health and Natural Sciences. Golisz currently serves as the Associate Dean for the School of Health and Natural Sciences and will assume this role effective September 1, 2021. The interim appointment follows the recent announcement that Dean Joan Toglia will be retiring at the end of August after 27 years of service to Mercy College. During this transition period, Dr. Irina Ellison will serve as Interim Associate Dean. In addition, Dr. Toglia will continue her work with Mercy this Fall in an advisory role on several grant-based projects and in support of Dr. Golisz and SHNS leadership.
As the Dean, Golisz will serve as the chief academic and administrative officer for the School of Health and Natural Sciences, managing academic programs, overseeing grant activities, and ensuring that students in the School's undergraduate programs and graduate programs have access to state-of-the-art facilities and expert instruction. In addition, Golisz will work collaboratively with institutional and academic leadership, faculty, and staff to establish and execute the school's strategic priorities in alignment with the College's strategic goals.
"I am pleased to welcome Dr. Golisz into the role of Interim Dean for the School of Health and Natural Sciences," said Peter West, Interim Provost and Vice President for Academic Affairs. "This has been a challenging year for our health care professionals and students due to COVID-19 and Golisz's extensive knowledge of Mercy College and her commitment to student success will ensure that we are able to continue to grow our programs, educate our students and ultimately prepare them for career success."
Golisz received her Occupational Therapy Doctorate from the University of St. Augustine and her Occupational Therapy and M.A. in Psychology from New York University. She has more than 30 years of experience in occupational therapy in the practice area of physical disabilities. In 2017, Dr. Golisz was named a Fellow of the American Occupational Therapy Association for her contributions to senior driving and traumatic brain injury rehabilitation. Prior to joining the faculty at Mercy, she was the Assistant Director and Clinical Specialist in Neurology at Helen Hayes Hospital, West Haverstraw, N.Y.
"This has been an unprecedented year for healthcare workers around the world and COVID-19 has reminded all of us of the importance of the role we play in educating the essential workers of the future." said Golisz. "I look forward to furthering the mission of Mercy College and providing stability and leadership while the College looks for a permanent Dean."
Golisz has presented over 30 national lectures and workshops on the topics of occupational therapy with clients with brain trauma and neurological disorders, cognitive rehabilitation, and driving rehabilitation. She was previously a clinical adjunct instructor at New York University and Dominican College.
About Mercy College

Founded in 1950 by the Sisters of Mercy, Mercy College is an independent, coeducational college that offers more than 90 undergraduate and graduate degree and certificate programs within five schools: Business, Education, Health and Natural Sciences, Liberal Arts and Social and Behavioral Sciences. The vibrancy of the College culture is sustained by a diverse student body from around the region. The College offers campuses in Dobbs Ferry, Bronx and Manhattan as well as online offerings.
Share article on social media or email: