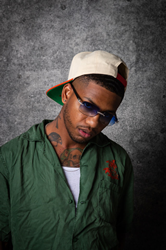 "I'm from the Bay, I'm from Oakland. But if you listen to my music… my music sounds like my music!" – Guapdad 4000

CORONA, Calif. (PRWEB)
June 29, 2021
It's getting lyrical on the podcast! Monster Energy is proud to announce Episode 9 of the sports and pop culture podcast UNLEASHED with The Dingo and Danny featuring rapper, singer and songwriter Guapdad 4000 (born Akeem Hayes). In this latest one-hour installment, the 28-year-old Grammy-nominated, Platinum recording artist from West Oakland shares life lessons, career milestones and keys to finding internet success.
"Record labels have a hard time understanding me, because I do everything. They don't ever get it, literally ever," said multi-hyphenate artist Guapdad 4000, who barged onto the scene in 2017 with the self-produced 'Scamboy Color' mixtape and has since worked with hip-hop's hottest A-listers.
Listen closely as the Bay Area rap sensation sits down with the two podcast hosts, Australian action sports personality Luke "The Dingo" Trembath and professional snowboarder Danny Kass. Prepare for the kind of insider secrets only heard on UNLEASHED: Guapdad 4000 reveals current creative projects, favorite hot sauce flavors, and the secrets behind his many alter ego personas.
But better hear for yourself! The new episode featuring Guapdad 4000 is now streaming on all major platforms, including Spotify, iTunes and YouTube.
Guapdad 4000 initially found internet fame on the Tumblr social media platform as a party organizer. Speaking on the secret to his success, the rapper said on the show: "I am a pretty handsome dude. That's pretty much what it was, attractiveness." Once he had built a fan base, forming a rap collective and recording a mixtape happened naturally, although the viral success came as a surprise. "Scamboy Color was just supposed to be a mixtape of ten throwaway songs I had at the time, so I could make some money."
The mixtape unlocked a new path for the self-taught creative who grew up supporting his younger siblings and friends while both parents were incarcerated. After Scamboy Color created buzz far beyond the Bay Area, Guapdad 4000 followed up by releasing a series of successful hit songs. "I'm from the Bay, I'm from Oakland. But if you listen to my music… my music sounds like my music!" said Guapdad 4000 about his unique sound.
His versatile talent and larger-than-life persona earned Guapdad 4000 a spot as a featured artist on 2019's Dreamville compilation album 'Revenge of the Dreamers III'. The album advanced to earn RIAA Platinum status, boosted by hit singles featuring Guapdad 4000 such as "Don't Hit Me Right Now", "Wells Fargo", and "Costa Rica".
"It changed my career. Changed my life! Changed my mentality in terms of work," said Guapdad 4000, adding that the album's recognition removed a major chip from his shoulder. "I don't care what you do. But you see the accolades other people get. I was looking for that merit. I still wanted the big dudes to look at me and say, 'He's tight!'"
Since then, the majority of hip-hop's A-list artists have acknowledged Guapdad 4000's talents. His hit song "Gucci Pajamas" featured Chance the Rapper, the biggest rap artist at the time. He recorded the song "Oaklandish" with Bay Area legend Too $hort and has famously lost an NBA basketball bet against rapper Drake (and had to stand on the Bay Bridge in a dinosaur costume). Guapdad 4000 has played major festivals nationwide and toured with P Lo, Earthgang and Denzel Curry.
On the podcast, Guapdad 4000 also shares that working with iconic producer Charlie Wilson was one of his career-defining moments. "I didn't feel like I had anything to prove anymore," said Guapdad 4000, who showed video footage of the recording sessions to his proud mother at the time.
Also on the podcast, the rapper whose imaginative music videos have earned a spot on the YouTube Music Foundry, speaks on his creative process and activities during pandemic lockdown. Prepare to be amazed as Danny and The Dingo learn about the secrets behind Guapdad 4000's many alter egos, including The Versace Velociraptor. "That's for when I need to get a lot more vicious. I need to whip out a bit more tenacity for whatever the task at hand calls me to do," said Guapdad 4000, whose new collaboration album '1176' with !llmind is out now.
Want to hear the entire story and Guapdad 4000's upcoming plans? Visit the landing page for this lyrically inspired episode of the UNLEASHED with The Dingo and Danny Podcast featuring the Bay Area rap phenomenon.
Episodes of UNLEASHED are filmed on a special set inside Studio M at Monster Energy headquarters in Corona, California. The podcast is hosted by the dynamic duo of Australian action sports personality Luke "The Dingo" Trembath and professional snowboarder Danny Kass. Known for their deep roots in action sports culture, the two starred in the beloved cult TV show 'The Adventures of Danny and The Dingo' on Fuel TV for five action-packed seasons in the early 2010s. Both hosts have walked the walk as pro snowboarders and possess the interview skills to find common ground with guests from any type of background – sports and pop culture. Always look out for new episodes dropping bi-weekly on Mondays.
Download photos for editorial use.
What's next on UNLEASHED? Prepare for a larger-than-life personality as the show welcomes four-time Super Bowl Champion Rob Gronkowsk i. The special episode, filmed at Gronk's residence in Tampa Bay, Florida, dives into the record-setting NFL player's long list of accomplishments, replete with a guest appearance by his puppy bulldog Ralphie. For an unforgettable conversation with Gronkowski, who recently set a new Guinness Book World Record for the highest altitude catch of an American football, make sure to listen when the episode drops on July 12, 2021.
The UNLEASHED with The Dingo and Danny Podcast is here to celebrate the personalities behind the Monster Energy lifestyle. With each episode dedicated to a unique guest or topic, listeners learn about living on the edge and advancing the state of the art in the world of high-energy sports as well as music, games and pop culture from individuals at the top of their game. More than a drink, Monster Energy is a way of life lived by athletes, sports, bands, believers and fans – and the podcast is an extension of this unique DNA.
For more on Guapdad 4000 and Monster Energy's music artists, visit http://www.monsterenergy.com. Also follow Monster Energy on YouTube, Facebook, Instagram, Twitter and TikTok for exclusive content and athlete features.
About Monster Energy

Based in Corona, California, Monster Energy is the leading marketer of energy drinks and alternative beverages. Refusing to acknowledge the traditional, Monster Energy supports the scene and sport. Whether motocross, off-road, NASCAR, MMA, BMX, surf, snowboard, ski, skateboard, or the rock and roll lifestyle, Monster Energy is a brand that believes in authenticity and the core of what its sports, athletes and musicians represent. More than a drink, it's the way of life lived by athletes, sports, bands, believers and fans. See more about Monster Energy including all of its drinks at http://www.monsterenergy.com.