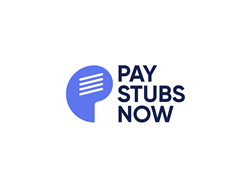 GRAPEVINE, Texas (PRWEB)
July 05, 2021
The major pain point is time. It takes a considerable amount of time to generate a pay stub, and that does not include the time needed to pull data from multiple files to arrive at a concise report. The truth is, paystubs, if not done right, can take a really long time to make. As everyone seeks a solution to simplify processes, Paystubsnow.com has been created as a solution for the excruciating process of generating paystubs.
Generating a paystub can be a serious hassle and pure waste of time but with Pay Stubs Now, business owners, employees, and independent contractors can generate pay stubs in less than two minutes. The website helps users to create concise and accurate pay stubs that can be used to secure personal and auto loans, pay taxes, refinance a mortgage, and much more.
A paystub (also known as pay slip or paycheck stub) is a document which outlines the details of an employee's pay within a pay period. It contains certain details which helps the employer and employee keep track of deductions, taxes, and payments. The contents of a pay stub include gross wages, employee taxes, deductions, employer contributions, employer taxes, and net pay.
Instead of going through the stress of sourcing through files and records to generate a paystub – which may be inaccurate – PayStubsNow makes it possible for anyone to create pay stubs in quick steps and enjoy immediate results. Generate a pay stub in less than two minutes with Paystubsnow.com through the steps outlined below:
1) Log on to https://www.paystubsnow.com/make-your-paystub/

2) Choose a template from the templates numbered 1 to 6

3) Fill in necessary information. The form indicates portions which are required so users know exactly what to fill in each field

4) Preview the final pay stub after all the fields on the form have been correctly filled

5) Proceed to Checkout, make payment, and Pay Stubs Now will generate a pay stub based on the details provided.
Depending on the pricing plan chosen, users can either get the generated paystub sent as a hardcopy document or as a softcopy to a submitted email. In addition, employers and employees can also generate Form W2 and a Form 1099misc on Paystubsnow.com. To learn more, please visit PayStubsNow or send an email to [email protected]

Share article on social media or email: