Dulai Fruits to partner with one of world's largest agrifood groups to advance durian business
KUALA LUMPUR, Nov 15, 2022 – (ACN Newswire) – PLS Plantations Berhad trading and export subsidiary, Dulai Fruits Enterprise Sdn Bhd cemented their export and exclusive distribution agreement with COFCO Food Import Co. Ltd, the import and distribution subsidiary of China Oil and Foodstuffs Corporation (COFCO) in Shanghai.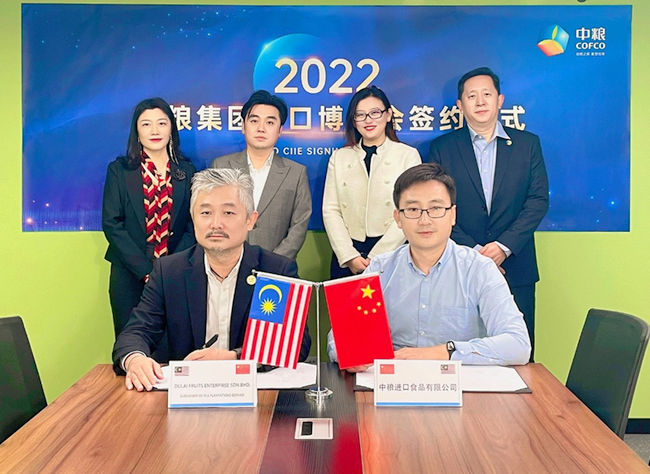 Back (L-R): Ms Zhengfeng, Mr. Eric Chan, CEO of Dulai Fruits, Ms. Wu Yiran, Vice General Manager of COFCO Food Import Co,. Ltd, Mr. Qiao Qingsong, Assistant General Manager of COFCO Food Import Co., Ltd; Front (L-R): Mr. Kenny Loh, Sales Director of Dulai Fruits, Mr. Jiao Guangyun, General Manager of Fruit Division of COFCO Food Import Co., Ltd
COFCO is China's leader in the agricultural and food industry and a world leading agri-product trader with a global footprint with fully integrated value-chain. It is also China's largest food processor, manufacturer, and trader.
The agreement was formalised in Shanghai, China.
This exclusive distribution agreement was inked after months of extensive engagements and evaluation by COFCO. This further re-enforced PLS's track record and commitment to developing sustainable models in support of the Malaysia's food security programme, that aims to scale the production of agriculture and aquaculture produce through strategic partnerships and joint-ventures with established and experienced farms and farmers.
PLS is a public-private-partnership (PPP) company which has a long history in co-operating with the State and Federal Government, and its related agencies. The major shareholder of PLS has worked with the Federal Land Development Authority (FELDA) since 1974 and also other land development and plantation agencies responsible for working with rural communities in the form of small holder farms. Part of PLS's food security programme is to foster the planting of different cash crops such as oil palm, rubber, paddy, cocoa to…