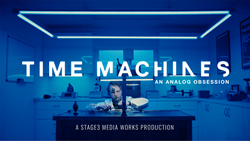 LOS ANGELES (PRWEB)
August 13, 2021
A quick search yields hundreds of explanations of what a mechanical watch is and how it works, but the more compelling question is much tougher to answer: Why are so many people obsessed with them?
Original content studio Stage3 Media Works today launches "Time Machines: An Analog Obsession," a film that dives into the implausible endurance of the mechanical watch, shedding light on the psychology behind a universal allure that has transcended generations and cultural boundaries for centuries.
Time Machines is the latest episode in a docuseries from Executive Producer Oliver Chan that explores a range of provocative social subjects, artistic movements, pop culture sensations, generational shifts, and other compelling transcultural curiosities. Produced by James Tate, Time Machines features interviews and commentary from:


    Dr. Andrew Dillon, V.M Daniel Professor of Information and Professor of Psychology, a published human behavioral expert who has studied humankind's trait of collecting extensively

    Daniel Dae Kim, an award-winning actor, director, and producer, as well as an enthusiastic watch collector

    Nicolas Stecher, Senior Editor of Maxim magazine, who writes on lifestyle and luxury with an intimate understanding of trends and the high-end consumer space

    Eric Wind, owner of Wind Vintage and an awarded expert in horology, who is cited in Fortune, The Chicago Tribune, The New York Times, Robb Report, and more.
Stream Time Machines: An Analog Obsession now on the Stage3 Media Works YouTube channel. For additional clips, content, updates, and new episodes – follow Stage3 Media Works on YouTube, Twitter, and Instagram.
About Stage3 Media Works:

Stage3 Media Works develops, produces, and distributes engaging original content for online streaming platforms. Media Works is a subsidiary of Stage3 Agency, a forward-leaning creative marketing firm with a reputation for cutting through the clutter and connecting premium brands to consumers through engaging, best-in-class digital work.
Learn more at http://www.stage3agency.com/mediaworks/.
Contact: [email protected]
Share article on social media or email: