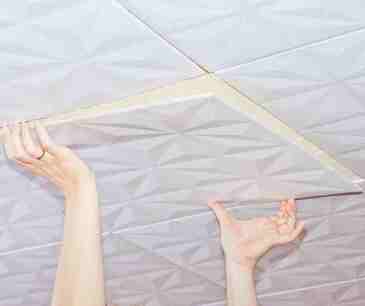 Toronto, canada, 03/04/2021 / SubmitMyPR /
If you are looking for ceiling tiles for your home or business and you're not sure which ones to choose, you should consider designs made from PVC. Talissa Decor will explain the details of PVC tiles so that you will know what to expect.
PVC tile benefits


Durable
PVC ceiling tiles are really strong and suitable for residential and commercial use. Unlike some other types of ceilings, they are not brittle. This means that you don't even need to worry about them getting damaged during the installation process.

Cost
When you compare the cost of redoing your ceiling versus installing PVC tiles, the latter is the clear winner in the price department. You can take your pick from several models that range in price too. All this makes it easy to shop on a budget.

Easy to install
Many people cringe at the idea of installing a new ceiling and, if you were to do so from scratch, then this is certainly a cringe-worthy thought. The good news is that PVC tiles are extremely easy to install even if you have no previous experience. You will need just a few basic supplies and soon your room will have a brand new look!

Lightweight
This ties in with the easy installation benefit since these tiles are lightweight and easy to lift. They are also easy to transport. So, if you want to buy them and transport them home yourself, you can do so easily.

Easy to maintain
Since they are made from PVC, you can expect them to be extremely low maintenance. You can dust them now and then and, if you notice any stubborn dirt, give them a gentle wipe with a soft cloth or sponge. After time, if the color changes or eventually fades, you can paint these tiles. Just make sure that you choose the appropriate type of paint.

Water-resistant
Water is one of the main enemies of any ceiling. Again, since these panels are made from PVC, there is no longer any need to worry about high levels of humidity. They can be installed in any room, including bathrooms and kitchens.
PVC tile drawbacks


Design
Depending on the design you choose, your ceiling might look somewhat plastic and, if not properly installed, the joints could be more prominent than they should be. All the more reason to invest in quality PVC tiles and take your time with the installation to make sure that it's done right.

No resistance to heat
PVC is not heat resistant which means that you should also take the time to consider the type of lighting you use in the room. Rather than regular lighting, you should consider LED lights that do not emit as much heat. Another alternative is to install wall-mounted lights instead of ceiling lights.
There you have it! All the pros and cons to keep in mind when choosing PVC ceiling tiles for your home or business. Remember, not only is it important to choose the design that you like the most, but also one that you will be happy with for years.
Media Contact
Company Name: Talissa Decor
Email: [email protected]
City: Toronto
Country: Canada
Disclaimer: The information does not constitute advice or an offer to buy. Any purchase made from this story is made at your own risk. Consult an expert advisor/health professional before any such purchase. Any purchase made from this link is subject to the final terms and conditions of the website's selling. The content publisher and its distribution partners do not take any responsibility directly or indirectly.  If you have any complaints or copyright issues related to this article, kindly contact the company this news is about.