With the first product using RE Series materials being PGC-RE, a gold compound for plating, the series will contribute to creating the Sound Material-Cycle Society while reducing the environmental impacts of carbon dioxide (CO2)
TOKYO, June 8, 2022 – (ACN Newswire) – TANAKA Kikinzoku Kogyo K.K. (Head office: Chiyoda-ku, Tokyo; Representative Director & CEO: Koichiro Tanaka), which operates the TANAKA Precious Metals manufacturing business, announced today the launch of its RE Series of recycled precious metals, which uses 100% recycled materials as the source of gold, platinum, and other precious metals.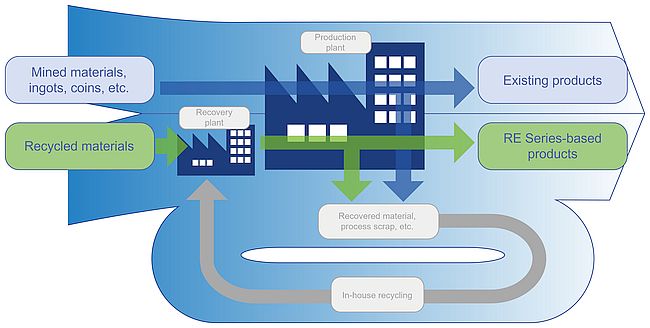 RE Series industrial-use product flow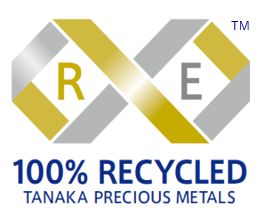 RE Series logo
The RE Series is composed of materials refined from recycled precious metals only rather than from sources such as mined bullion. TANAKA Kikinzoku Kogyo has been operating a recycled precious metals business since it was established. It has now expanded its RE Series production line to manufacture products that use 100% recycled precious metal materials. In the future, the company will begin manufacturing and supplying products that use RE Series materials. In April 2022, TANAKA began using RE Series gold to supply PGC-RE, a gold compound for plating, as its first product using RE Series materials.
Through its RE Series, TANAKA Kikinzoku Kogyo hopes to continue contributing to the creation of the Sound Material-Cycle Society and to the reduction of carbon dioxide (CO2) emissions, both of which are needed worldwide. To help address social issues through the expansion of RE Series materials, the total volume of recycled materials needs to be increased. To achieve this, the company is calling on its customers for support as it increases the volume of recycled materials that it can accept to incorporate even more precious metals into the resource-recycling loop. At the same time, it will continue to drive research and development in its precious metals recycling business.
Over recent years, there has been a strong…