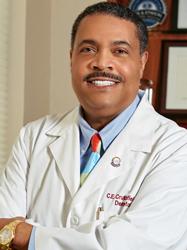 "This recognition is really the result of an outstanding team of dedicated healthcare employees at our clinic that makes our patient's visits a first-class healthcare experience." Charles E. Crutchfield III, MD

EAGAN, Minn. (PRWEB)
July 12, 2021
The City's Best Awards judging panel honored Crutchfield Dermatology with the 2021 City's Best Award based on their outstanding service and customer satisfaction over the last year.
Competition for the award was high due to the businesses opening in the area, despite the downturn recently in commerce due to the pandemic. Several businesses stood out from the crowd, but Crutchfield Dermatology came out on top.
Partnering with only the best businesses, The City's Best Awards works with one winner in each major city throughout the country. This winner is selected annually and receives various perks including an exclusive business listing, a website badge, award certificate, social media graphics, and more.
"This recognition is really the result of an outstanding team of dedicated healthcare employees at our clinic that makes our patient's visits a first-class healthcare experience." Charles E. Crutchfield III, MD
About Charles E. Crutchfield III, M.D:

Charles E. Crutchfield III, M.D., is a graduate of the Mayo Clinic Medical School and a Clinical Professor of Dermatology at the University of Minnesota Medical School. He is currently the Medical Director of Crutchfield Dermatology in Eagan and is a Benedict Distinguished Professor of Biology at Carleton College. Dr. Crutchfield has won numerous teaching and professional awards and is the co-author of a children's book on sun protection, a dermatology textbook, and hundreds of medical articles. He is a member of the AΩA National Medical Honor Society, an expert consultant for WebMD and CNN, and a recipient of the Karis Humanitarian Award from the Mayo Clinic School of Medicine. He is the team physician for the Minnesota Twins, Vikings, Wild, Timberwolves, and Lynx professional sports teams. Dr. Crutchfield has over 25 years of clinical experience caring for patients.
http://www.crutchfielddermatology.com
Share article on social media or email: