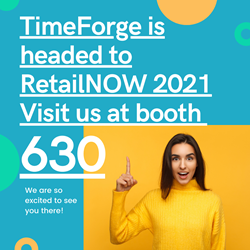 Stop by booth #630 to check out TimeForge's latest retail-hardened timeclock technology. More than a timeclock, the new tech is a full employee self-service kiosk designed to help retailers engage and retain employees and to overcome the challenges of today's labor shortage.

NASHVILLE, Tenn. (PRWEB)
July 23, 2021
TimeForge, a leading provider of sales-driven employee scheduling software and integrated labor management solutions, is excited to announce its sponsorship of the 2021 RSPA RetailNOW show, where it will be showcasing its latest workforce management technology.
RetailNOW, which is hosted by Retail Solutions Providers Association (RSPA), is considered the retail IT channel's #1 trade show, education conference, and networking event. This year, RetailNOW is expected to have 2,000+ attendees and 160+ show floor exhibitors at the Gaylord Opryland in Nashville, TN, for its 3-day event.
"With the ongoing labor shortage, it's more important than ever for retailers to be able to retain employees and to utilize their labor efficiently," said Audrey Hogan, SHRM-SCP, Chief Operating Officer of TimeForge. "That's why we're incredibly excited to showcase our workforce management tools at RetailNOW this year. We'll be highlighting our latest timeclock technology, which is a full employee self-service kiosk designed to aid in employee engagement and retention. We'll also be showing off some of the other ways our technology helps retailers engage their workforce while cutting labor costs."
TimeForge will be exhibiting its latest retail labor management technology, including its retail-hardened timeclocks and employee retention tools, at booth #630 next to BlueStar on the show floor. Attendees and fellow exhibitors are welcome to stop by to chat with a TimeForge expert or to visit the TimeForge website at https://timeforge.com.
With its centralized approach to labor management, TimeForge empowers all areas of a retail business to run more profitably. It handles the full employee life cycle, from hiring and onboarding to scheduling and timekeeping. TimeForge's free mobile apps allow managers to communicate and monitor the business from anywhere. The apps also keep employees engaged and satisfied with the features they expect, including shift swaps, time off requests, and the ability to check their time cards and schedules from the convenience of a smartphone.
"We're very pleased to be able to exhibit alongside so many innovative industry leaders at RetailNOW," said Audrey Hogan. "TimeForge is proud to be an RSPA member, and we look forward to serving partners such as CBS NorthStar, Flyght, ParTech Inc, North Country Business Products, and RDS, who will also be attending or exhibiting at this year's event."
Share article on social media or email: