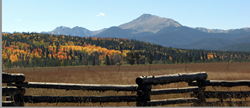 GRANBY, Colo. (PRWEB)
September 04, 2021
Labor Day is the perfect excuse to pamper yourself with the pleasures of the Rockies. Soak up some serenity at one of Grand County's water sports; enjoy a little retail therapy in one of our historic towns; or pass the day with one of our off the beaten path activities.
1.    Shop till you drop

Slip on some comfortable shoes and save some space in your suitcase! Featuring Indian and local art, Southwest jewelry, Western attire, and a huge selection of souvenirs and gifts, you're sure to find something you just can't leave without. In Grand Lake (http://www.gograndlake.com) you can stroll along the boardwalk of the state's largest natural lake to explore convenient shops and galleries. Relax and refuel at one of the many coffee shops and restaurants along the way.
Downtown Winter Park (http://www.winterpark-info.com) is an eclectic mix of shopping centers, outdoor outfitters and restaurants.
Labor Day sales will be happening along Granby (http://www.granbychamber.com) main street from western wear to last minute camping needs.
2.    Colorado River

The headwaters and tributaries of the Colorado River are in Grand County, so there are serious fly-fishing opportunities around every bend. A 20-mile stretch of the Colorado from its confluence with the Fraser River through Byers Canyon west of Hot Sulphur Springs has been given "Gold Medal" designation by Colorado Parks and Wildlife. In July 2012 a stretch of the Fraser River running through the town of Fraser was dedicated to the late President Eisenhower, who spent many days fishing near his "Western White House." There are also several rafting and kayaking opportunities on the River, with guides located throughout the county.
3.    Rocky Mountain National Park

As one of the country's busiest national parks Rocky Mountain National Park can sometimes feel a little crowded. Savvy visitors know to base their visit on the "quiet side" of the park, in the village of Grand Lake. One-tenth the size of the crowd means ten times the experience for hiking, wildlife viewing, fishing and camping. While you're in Grand Lake be sure to stroll its quaint boardwalk for shopping and dining.
4.    Good, Local Eats

Grand County is cattle country, so it's no surprise to find great beef here. For more than 35 years Kremmling's Middle Park Meat Co. has offered USDA choice aged Angus beef as well as poultry, pork, seafood and lamb. (Their apple-cured pork chops are a local favorite.) And since they also carry jerky, deli items, and smoked items to go, it's also a great place to pick up something for a hike or river trip.
5.    Granby Ranch

Granby Ranch in Granby is a year-round resort with a variety of fun to choose from this fall. The resort offers an excellent system of hiking and mountain biking trails, which link up with the multi-purpose Fraser-to-Granby trail.
6.    Winter Park Resort

Technically a city park for the city of Denver, Winter Park Resort has been a favorite recreation destination for nearly 70 years. Experience 40 miles of lift-accessible trails on one of North America's fastest-growing system, Trestle Bike Park. Other summer fun at the village base area includes Colorado's longest Alpine Slide, climbing walls, mini-golf, and scenic chairlift rides.
7.    Gold Medal Fishing

Kremmling is the place where fish tales are hatched. Here, fisherman reel in hours of fun on Gold Medal stretches of the Colorado and Blue Rivers.
8.    Four Courses

Granby is the hub for Grand County golf, with four distinctly different courses within a 25-mile radius.
Grand County, Colo. (http://www.visitgrandcounty.com)

Located 67 miles west of Denver, Grand County is home to wide-open spaces, breathtaking mountain scenery and authentic old-west towns. Outdoor recreational activities include golf, boating, fishing, biking, hiking, fishing, hunting and horseback riding.
The area features more than 600 miles of mapped and marked trails, one national park, two national forests, four wilderness areas, two national scenic byways, two major ski resorts, four world-class dude ranches and four mountain golf courses. Grand County's extensive water network includes Colorado's largest natural lake, 1,000 miles of streams, 1,000 acres of high-mountain lakes and 11,000 acres of reservoirs.
Share article on social media or email: